I'm only participating in two reading challenges this coming year because after my miserable year of reading in 2014, I don't want to set any goals that I know I can't reach. So both the challenges I've signed up for don't have any requirements other than read as much as you can.
I've already posted about this challenge, but basically the idea is to read as many diverse books as you can. I'm really looking forward to expanding what I read and looking for books featuring diverse characters. This challenge is hosted by Rather Be Reading and Reading Wishes.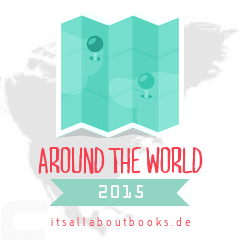 The  Around the World reading challenge is hosted by All About Books. For this challenge, you try to travel around the world in books. I've embedded a Google Map below, on which I'll be tracking the settings of all the books I read this year. The main focus of this challenge is to step outside the US, and since I live in Canada, I'd really like to find some books set in my home country, possibly even Toronto – that would be really cool.
It's likely that I'll fail miserably at these challenges, but it's worth a shot. Let me know what challenges you're participating in in 2015, or if you have any book recs for me for the challenges above! Happy almost new year 🙂