I'm notoriously bad at completing reading challenges. This year I only signed up for two, and I'm already majorly behind. Here are my (meagre) updates.
This challenge is hosted by Rather Be Reading and Reading Wishes.
I'm failing at this challenge – so far I've read 0 books with diverse characters. Bittersweet does feature a person of colour but since she's the best friend and not the MC, I'm not counting it. I definitely need to step up my game here.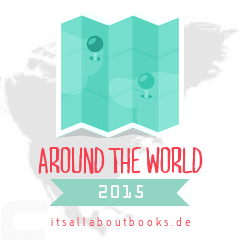 The Around the World reading challenge is hosted by All About Books.
I've done minimally better in this challenge, but still not great. All the books I've read so far have been set in America. Although, I'm currently reading Kitchen by Banana Yoshimoto, which is set in 80s/90s Japan, so soon I'll be able to add that to my map.
The books shown in my map are:
Yes, Please by Amy Poehler (Newton, MA. to Los Angeles, CA. to New York City, NY.)
Bittersweet by Sarah Ockler (Buffalo, NY.)
A Tree Grows in Brooklyn by Betty Smith (Brooklyn, NY.)
So, that's it for my very sad progress on my reading challenges. Hopefully I'll be able to catch up soon. What challenges are you guys participating in? Having any luck? And any recs for me for my challenges? Happy reading!