When Google Reader shut down last year, I think we were all a bit worried about how we would read our blog content now. If you're a book blogger, it's likely that you follow way too many blogs to simply hop around the internet every day. Having them all organized in one place is key to sorting through, saving posts for later, and checking out the ones you want to comment on. At least it is for me – without my reader I would forget which posts I liked, which ones I need to come back too, etc. etc.
Another thing happened with Google Reader shut down – the blogosphere piled up with posts about choosing your next reader. I think most people have discovered their new reader of choice by now, so you're probably wondering why I'm jumping in so late to the game.
Well, when I read all of these posts, I noticed that far and wide, the two major contenders for people were Bloglovin' and Feedly.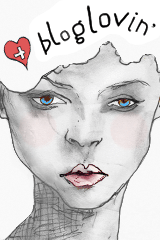 I ended up trying out both. First I started with Bloglovin'. What I liked was the clean interface, and how it was pretty easy to use. I could just import all the blogs I followed right in and be on my way. However, I wasn't thrilled with the way you had to click on each post to expand it, and there's no way to collapse the posts to see everything in that category/blog.
So, onto Feedly. I actually stuck with Feedly for a while because I really like the look of it. You can customize so much – the colours, the set up, how your posts are displayed. Also, I had the mobile version on my iPod which worked out really well when I just wanted to quickly scroll through a whole ton of posts. But then I started having some issues. Feedly wouldn't let me change the categories I had previously set up on Google Reader – they were permanently stuck, and they just weren't working for me anymore. It was unorganized and pretty inefficient. I looked through all the help pages but nothing addressed the issue, and eventually I just got fed up. I felt a bit like the Panda Cheese Panda.
For a while, I'll admit I didn't really use a Reader. I kind of just gave up and randomly visited blogs whenever I remembered to. I realized that this was even worse than my frustrating Feedly experience, and I needed to find a solution. Enter Digg.
Digg isn't just a Reader (although that's the only thing I use it for). It's basically a place to just find out all the cool things happening across cyberspace. But for me it ended up being perfect. I chose not to import all the blogs I followed previously because a lot of them didn't even exist anymore and the whole thing was just getting way too crowded for me to actually read anything properly. But, if you're looking to transfer to a new reader and keep all the blogs you follow, you can easily import them.
So what do I like about Digg? I like that it's simple, easy to use, and you can customize how the posts are shown to you. I think what I like most is that since literally clearing out my whole reader, I now only have blogs that actually exist, and that I actually read. It's way more manageable and it doesn't feel like a task every time I open it up. I know I could've done this with any other reader, but Digg is just perfect for me. Also, it really closely resembles the older Google Reader style, just more modern.
I know most people are comfortable with the reader they're using now, and I'm a bit late to this whole game, but I really wanted to talk about Digg because I never really saw anyone mentioning it when the reader debate was going on. Bloglovin' and Feedly are probably great for some people, but if you're still searching for an alternative and looking for familiarity and ease of use, I would definitely recommend Digg.